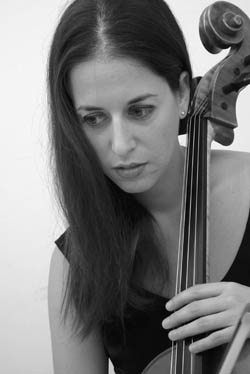 Ella Toovy
Cellist
Israeli cellist Ella Toovy had performed in recitals, chamber music and orchestral concerts throughout Israel, the United States, Germany, Cuba, France, the Netherlands and Japan. Described as "possessing the capacity of cantabile to great finesse.so well balanced with sonority and expression". (Granma), Her chamber music and solo performances has been broadcasted on Cuba National Television and Israel's classical music radio station. Festivals performances include Kfar Bloom Chamber Music Festival in Israel, Cooperstown Chamber Music Festival and Musica Viva festival in the US, Grandes De La Musica Festival in Havana and more, and is a winner of the Artist International Chamber Music Award (2003).

Ella is on the cello and chamber music faculty of the Hartwick Summer Music Festival and Institute, Manhattan School Summer Music Camp, New York Youth Symphony Chamber Music Program, the Lucy Moses School, and Matan Summer Festival (Israel).

Ella earned her Masters degree from the Manhattan School of Music under the tutelage of Alan Stepansky, and her Bachelor from the Academy for Music and Dance in Jerusalem, in the studio of Professor Shmuel Magen, serving as principal cellist in the schools' chamber and symphony orchestras.