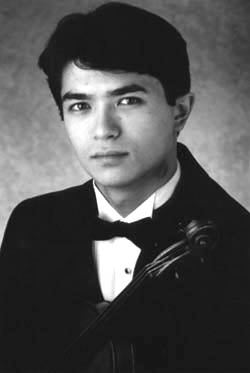 Omar Guey
Violinist
Violinist Omar Guey has performed as a soloist with orchestras and in recitals and chamber music concerts throughout Brazil as well as in The United States, Taiwan, France, Italy and Norway, Switzerland. He has been a featured soloist with the Brazilian, Campinas, Goiania, Minas Gerais, Claudio Santoro National Theater, Sao Paulo University, Sao Paulo Municipal, Sao Paulo State Symphony Orchestras. Mr. Guey also performed with the Petrobras Pro-Musica, Amazonas Philharmonic, Experimental Repertoire and the Manhattan School of Music Orchestras. Mr. Guey gave a recital in Oslo, Norway, and soon after, performed for the King of Norway, Harald V. In 2001, he was a prize winner at both the Tibor Varga and Rodolfo Lipizer International Violin Competitions in Switzerland and Italy, respectively.
Mr. Guey released on the Paulinas Label, the Bach Concerto for Two Violins with the Brazilian soloist Elisa Fukuda and the Camerata Fukuda, where he was also the concertmaster. His performances have been broadcasted on TV and radio. In 2000, he was the concertmaster of the Jerusalem International Symphony Orchestra in Israel.
As a chamber musician, Mr. Guey has performed at Carnegie Hall, Alice Tully Hall, Weill Recital Hall, and the Semaine Musical in Portes du Solei, France. He participated at the Isaac Stern Chamber Music Workshop in 1999. In the summer of 2001, he performed a chamber music concert with Lynn Harrell at the Aspen Music Festival. In 2003, he performed with David Finckel, cellist of the Emerson String Quartet at the Emerson Festival in Stony Brook, USA. He has also collaborated with Colin Carr, Ani Kavafian and Lawrence Dutton, from the Emerson String Quartet.
Mr. Guey studied at Indiana University and later, at Manhattan School of Music with Sylvia Rosenberg where upon graduation, he received the Raphael Bronstein Award. He received the Master of Music degree from the Juilliard School where he was a student of Robert Mann. Mr. Guey was awarded full scholarship for graduate studies from the Brazilian Government, and was a recipient of the Aspen Music Festival Fellowship. He is currently pursuing the Doctorate degree at State University of New York at Stony Brook as a student of Pamela Frank, Ani Kavafian and Philip Setzer. As a winner of the Stony Brook Concerto Competition, Mr. Guey will perform the Prokofiev Concerto #2 with the Stony Brook Graduate Orchestra in the 2004-2005 season.